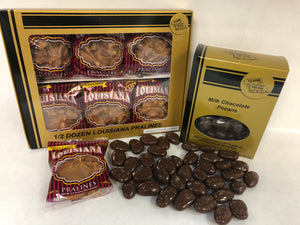 Mother's Day Gift Pack
Creamy . . . Crunchy . . . and SWEEEET!  Mom will love our Louisiana Praline Patties!  And just for Mother's Day, we'll throw in a half-pound of our delicious chocolate covered pecans to make a gift pack that Mom is sure to be NUTS about!  Pack includes:
Windowed box of 6 Louisiana Praline Patties
1 half-pound of milk chocolate covered pecans
Individually these items retail at $37.  Now thru Mother's Day, and WHILE SUPPLIES LAST, this pack is only $29!!!