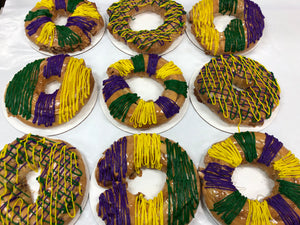 Praline Pecan King Cake
This traditional King Cake is made the Mardi Gras way with cinnamon, sugar, butter, special dough, and colorful icing in Mardi Gras purple, gold and green.  Rolled inside is a lush mixture of pecans, cream cheese, and praline flavors baked in the ovens to perfection!  Wow!  This is one of the reasons Mardi Gras in South Louisiana is so spectacular!  Praline Pecan King Cake!
This gift is only available annually between early January and Mardi Gras day.